No-one could predict the future when Sphere 43 Ltd was formed in 2002.
The new 'All Round Thinking' marketing resource was a spherical mystery,
summed up by the photograph below.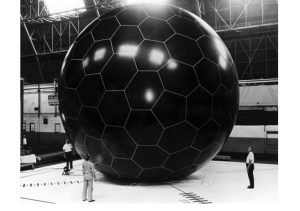 "Anyone know what it is?"
The world in 2002
2002 was the year of the Queen's Golden Jubilee (50 years). Gareth Gates
was the UK's most searched male name on the internet after he came second
to Will Young on Pop Idol. Tony Blair and George Bush dominated the news.
Facebook didn't exist, Google was gathering speed but the mainstream
internet portals were Yahoo, AOL and AltaVista.
In its formative years, Sphere 43 worked with several marketing agencies
in the north, northwest, midlands and London, as well as adding a small
number of UK-wide direct clients, mainly in the construction sector.
Moving from print to digital
In Sphere 43's first decade, the vast majority of campaigns involved
printed marketing materials rather than digital formats.
In the second decade, from 2012, the balance swung the other way
and today, digital campaigns vastly outnumber print-based work.